Itinerary of two week holidays in Chiang Mai, Thailand
My lovely wife and I traveled a lot. In spite of having both ambitious and demanding jobs we take a fair amount of days off. Usually twice per year we go for a more extended trip. Most of the time we aim to see as much as possible, staying at most three nights in a single location. Our favorite activities are hiking, observing nature and cultural sightings.
This year, not only, we returned to the same city after two years, but we decided to stay the whole two weeks there. On our last voyage to Thailand, we visited Bangkok - the bustling capital, Chiang Mai - the mecca of mindful travelers and Patong in Phuket - party beach town.
We loved Thailand as a whole, great balance of exotics with enough civilization for European travelers. However, Chiang Mai indeed won our hearts thanks to mountains with jungles, old town with fantastic street food and a wide variety of attractions. Moreover, it feels that travelers to Chiang Mai are frequent on sabbatical or gap-year backpackers reflecting on the meaningfulness of their lives.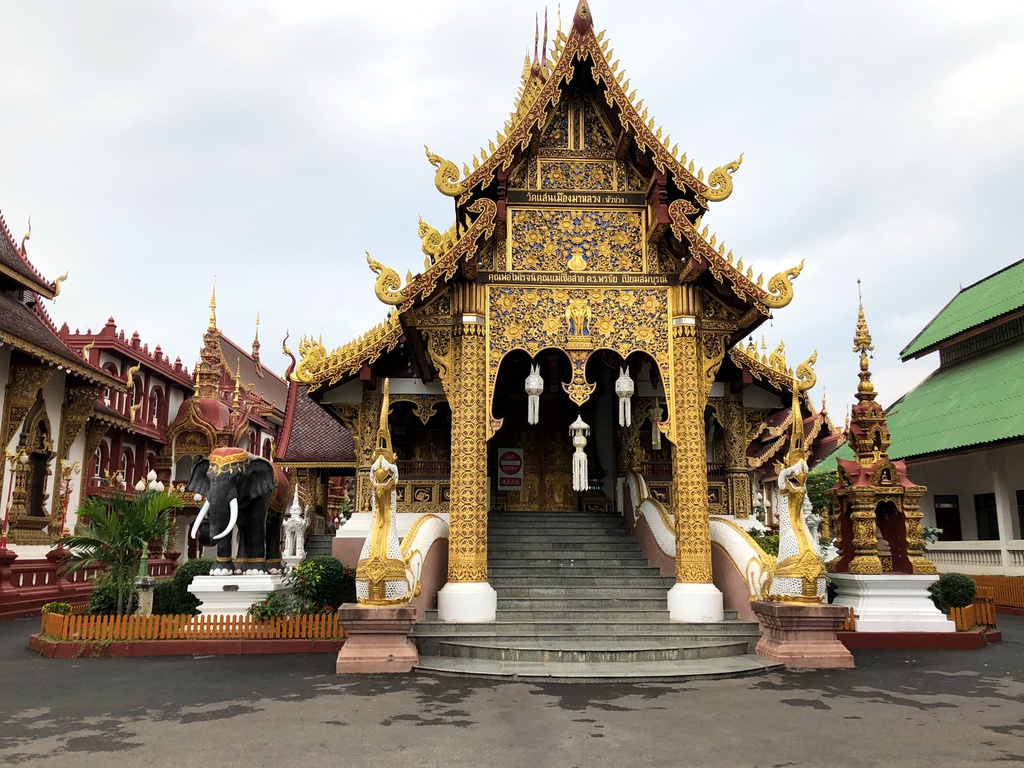 Before you go
I booked a hotel through booking.com1, planned a few activities based on TripAdvisor and blogs. I used Revolut credit card to get the most optimal currency exchange. Though in Thailand cash is the king, so changed a bit PLN to TBH conversion in Warsaw.2 Travel insurance is a must. We did not take any recommended vaccinations, though we were taking probiotics for several weeks before the trip to avoid stomach problems.
Though Chiang Mai is a medium sized city with 131 thousand citizens (1 million living in the metro), Qatar airlines opened excellent connections with just one hop from Warsaw. It takes less than sixteen hours including a five-hour layover in Doha plus the airline is top notch even for the economy. We tried to sleep as much as possible both on planes as well as in the airport.
Plan there
We arrived around 6 AM, smoothly went through passport control and got a 15-minute taxi ride for 150 TBH. Thailand is often called a land of thousands of smiles, and contrary to other exotic locations don't try to overcharge or expects large tips.
With a first few breaths, one can feel the climate of tropics. We landed in late December which is a dry season (20-30 C degree). It rained heavily one day during our stay, though this was an anomaly which was aftermatch of Pabuk storm 1000 km away.
On the first day, we bought a local sim card, installed Grab (ride-hailing app, similar to Uber), made a quick trip through the city and went to the Chiang Mai Zoo. Our primary goal was to minimize jet-lag by not falling asleep at a weird hour, though the Zoo was really fun and very spacious.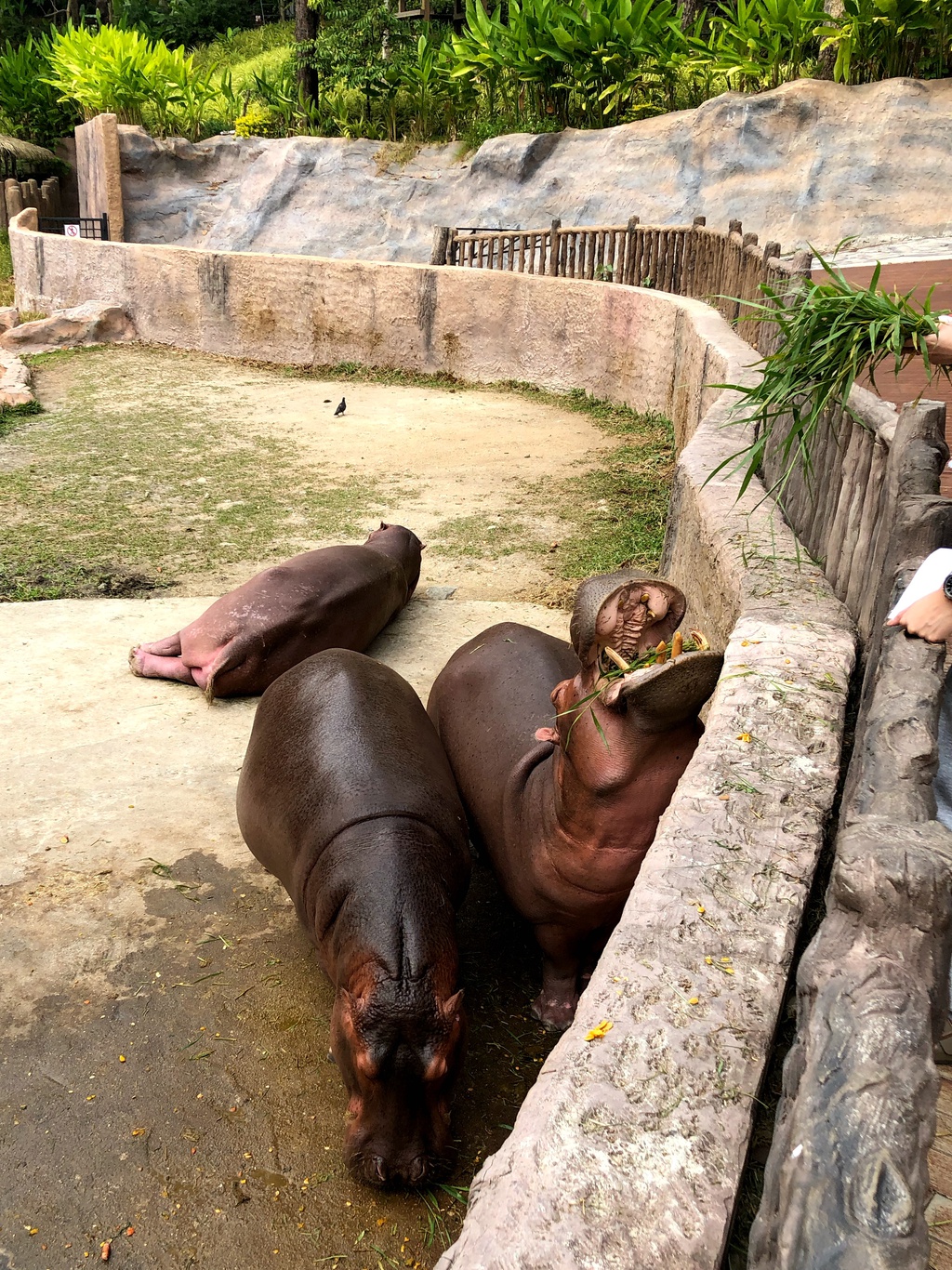 On the second day, we went to a Catholic cathedral for Sunday mass. Thailand is mostly Buddhist, though on North there are some Christians with missions even in tribal villages.
On the third day, we did a self-guided hike to Wat Phra That Doi Suthep. After taking Grab to the trailhead, the first half named Monk Trail was easy to navigate. Buddhist template looks impressive in the mountainous jungle. We skipped the temple as we seen it two years ago and there was a crowd of Thai people due to New Year's Eve. I drunk Coconut expresso, and we headed back. We tried another trail, though in Thailand there are almost zero signs and you have to rely on a GPS path. Massive contrast to well colored and marked European trails. The GPS position in a dense jungle is not that accurate, and a trail is often overgrown. Though I lost our path once and I heavily tested the patience of my wife, our first true jungle experience was mystical, due to dense forestry with waterfalls on our way.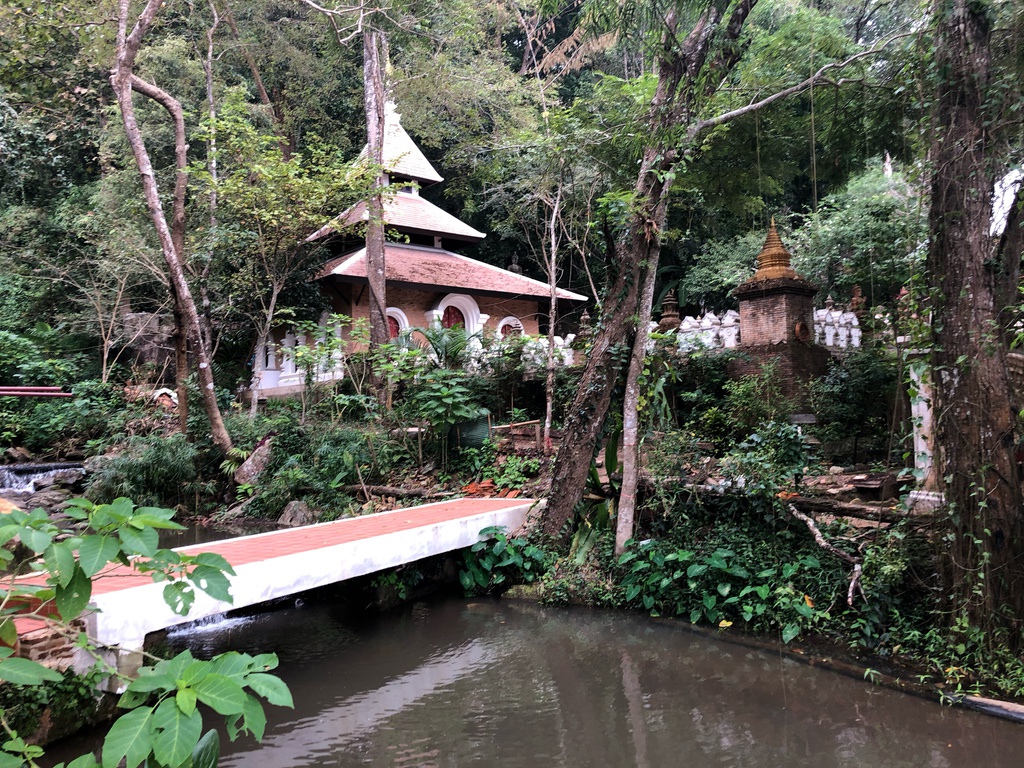 We celebrate the new year with a cocktail. A lot of people light a lantern instead of typical fireworks. However, the custom is controversial as it creates a lot of trash in hard to clean places.
On the fourth day, Gosia persuaded me to go for a three-hour course of Thai massage in a group with just us and another couple from Sweden. The Thai massage uses a lot of force, so you need proper guidance not to harm your partner. We received the certificate plus illustrated manual. Though Thai people are super friendly and willing to communicate, many of them speak just basic English.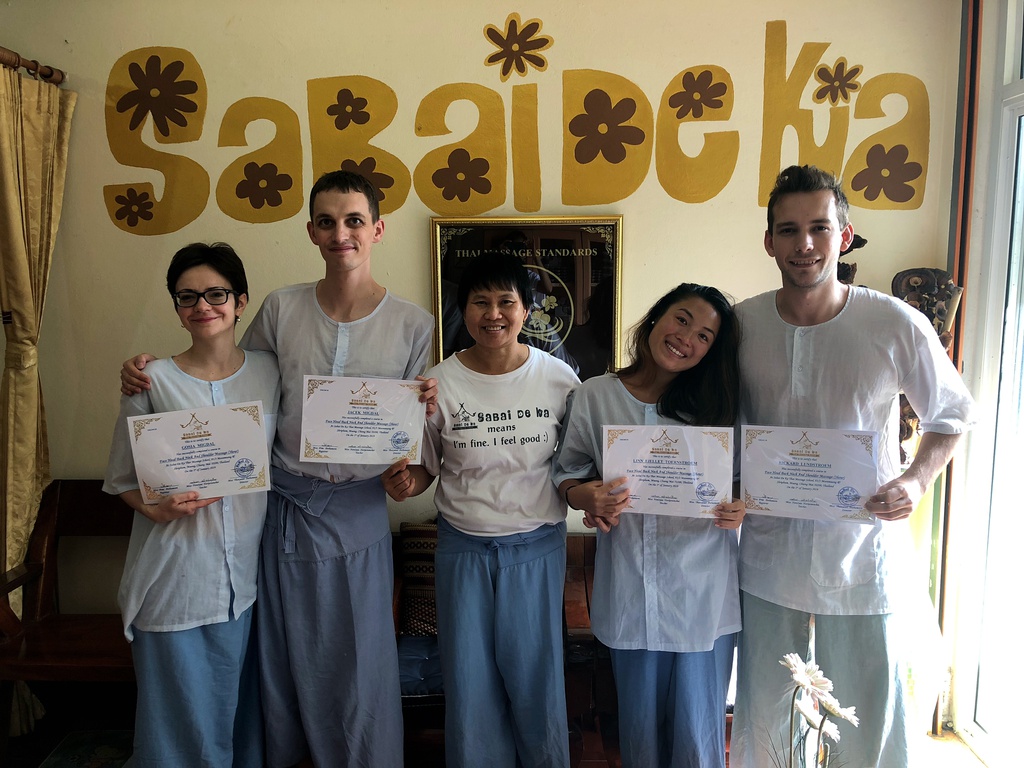 On the sixth and seventh day, we did an overnight guided tour to a jungle. Our guide drove us towards Pai, near the border with Myanmar, to the dropoff point. We trekked for several hours through the mountains and dense forest. Several tribes, whose villages are not connected to roads or electrical grids, are living there. They primarily live out of their essential livestock and farming, trading coffee or handmade goods using motorcycles with rest of the civilization. We slept in tribe home, with an experience similar to a campground. The night was chillier than we anticipated. However, even in this remote village, we were served with the yummy Thai food. On the second day of the trek, we did bamboo rafting.
On the eight-day, we made another hiking trip through the jungle, though this time close to Chiang Mai from Doi Pui to Doi Suthep. It got excellent views as well as coffee plantations on the way.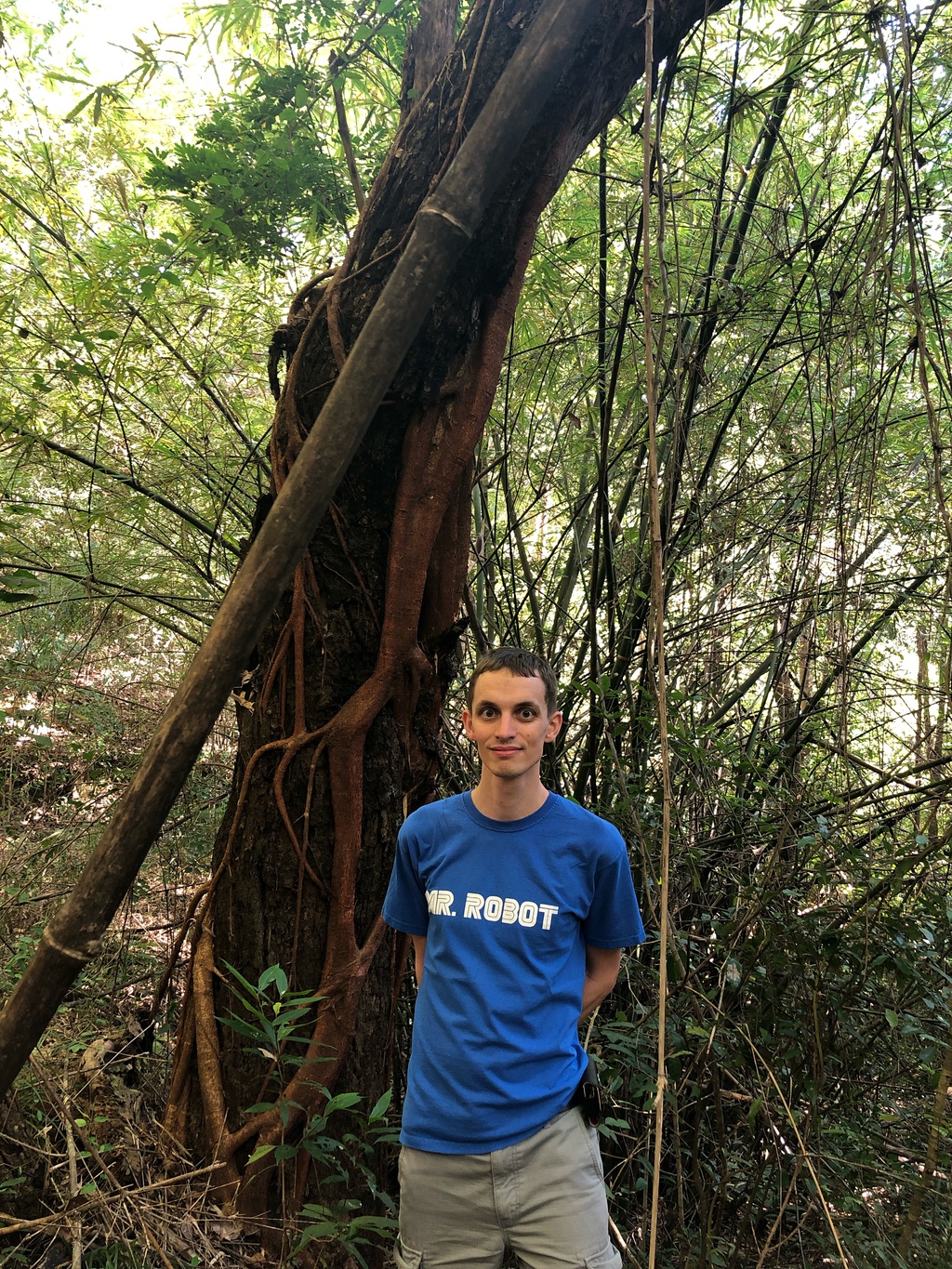 On the tenth day, we did a half day visit to Elephant Jungle Sanctuary. If you ever would like to experience an elephant, please do it ethically. Elephants are endangered and disappearing. They are not as domesticated as horses: it's hard to breed them in captivity with 18-month pregnancy, riding on them hurts them and teaching them unnatural skills requires a lot of violence. However, elephants are smart, massive, majestic creatures that form complex social relations. So we enjoyed a decent place, saw even a baby one, fed them (as they eat over 300kg per day!) and took a mud as well as river bath together.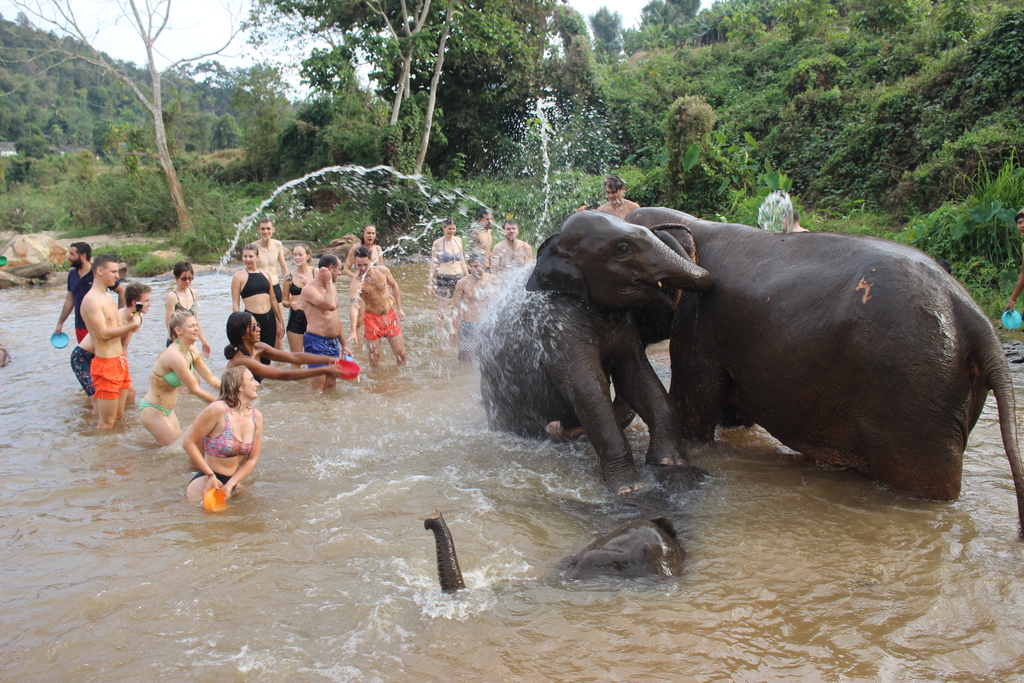 On the eleventh day, we took a full day cooking class on a rice farm. We love the Thai kitchen, eating every day their famous dishes such as Pad Thai, Khao Soi, curries, pineapple rice as well as other snacks such as mango with sticky rice. You can eat fantastic food on the street or at a local restaurant for 50 TBH. However, on this day we could prepare and understand it on our own.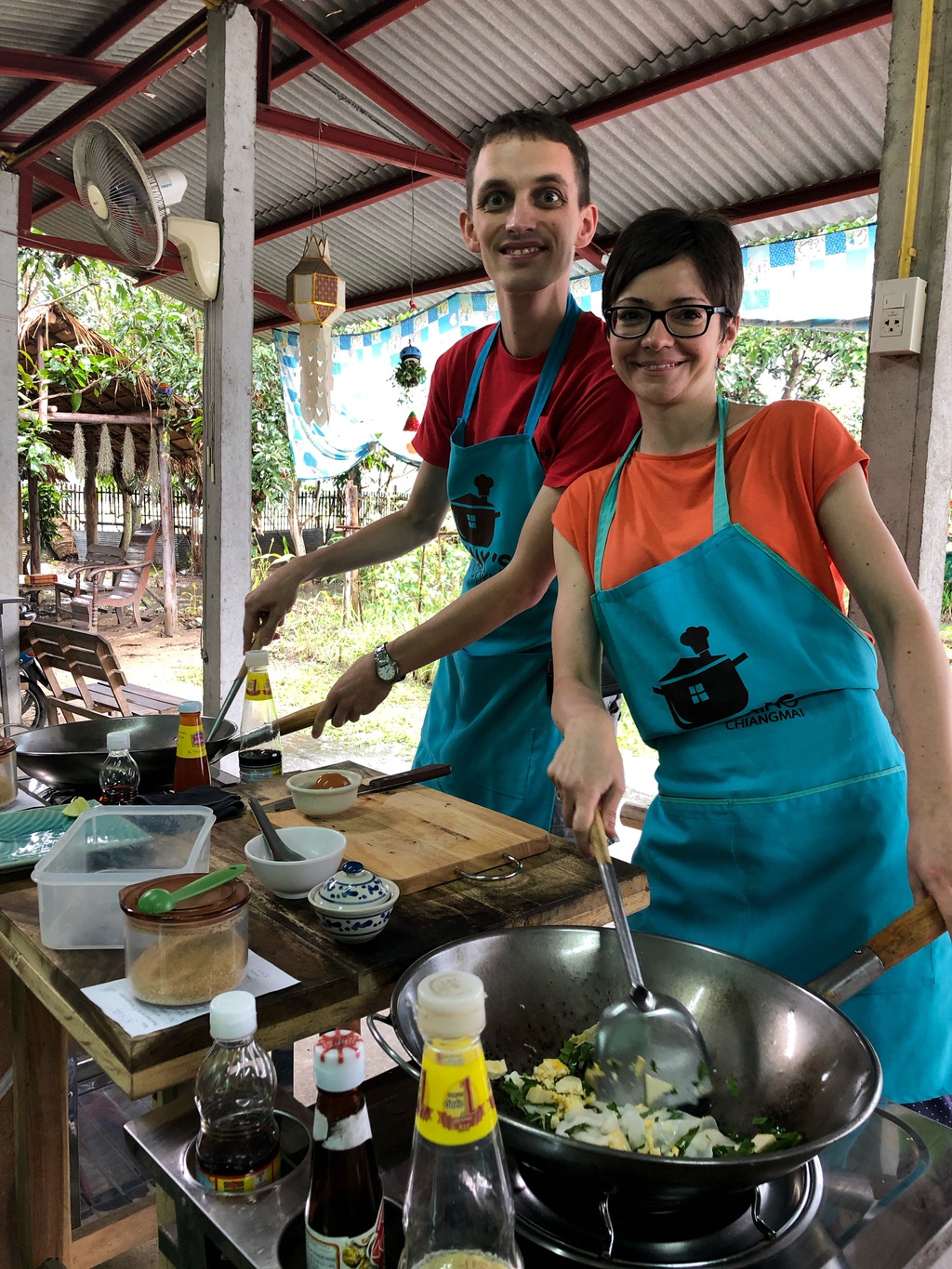 On the twelfth day, I went for ziplining. There are many providers, but I picked one with the longest zipline and roller coaster. I was the only non-Chinese tourist in our group. I was amazed at how much some Asians women put effort into fixing their makeup between ziplining platforms. The perfect selfies are the top priority. It was the single half-day when Gosia decided to go museums instead as she doesn't enjoy this type of adventures.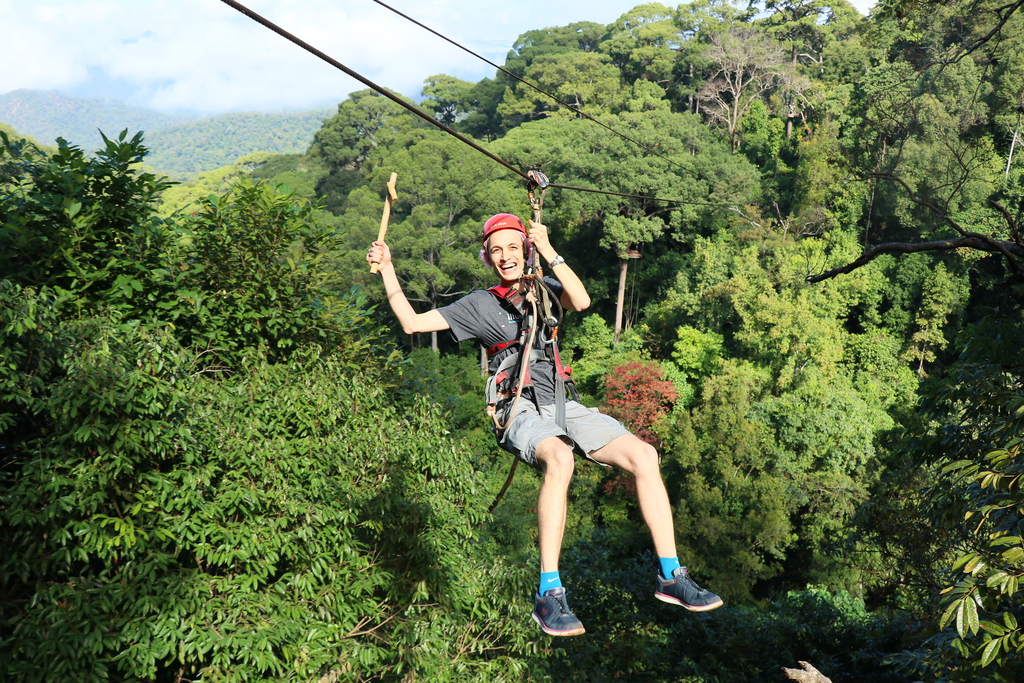 For the thirteenth day, we took a private tour to two off-the-beaten-track attractions: Chiang Dao Caves and Sticky Waterfall. The Chiang Dao Caves are a mixture of natural cave system as well as a place of worship. However, the Sticky Waterfall is little known, but truly unique experience. It is a waterfall that pours through limestone stones which are shaped like steep stairs. That allows not so challenging climb barefoot upwards the cascade.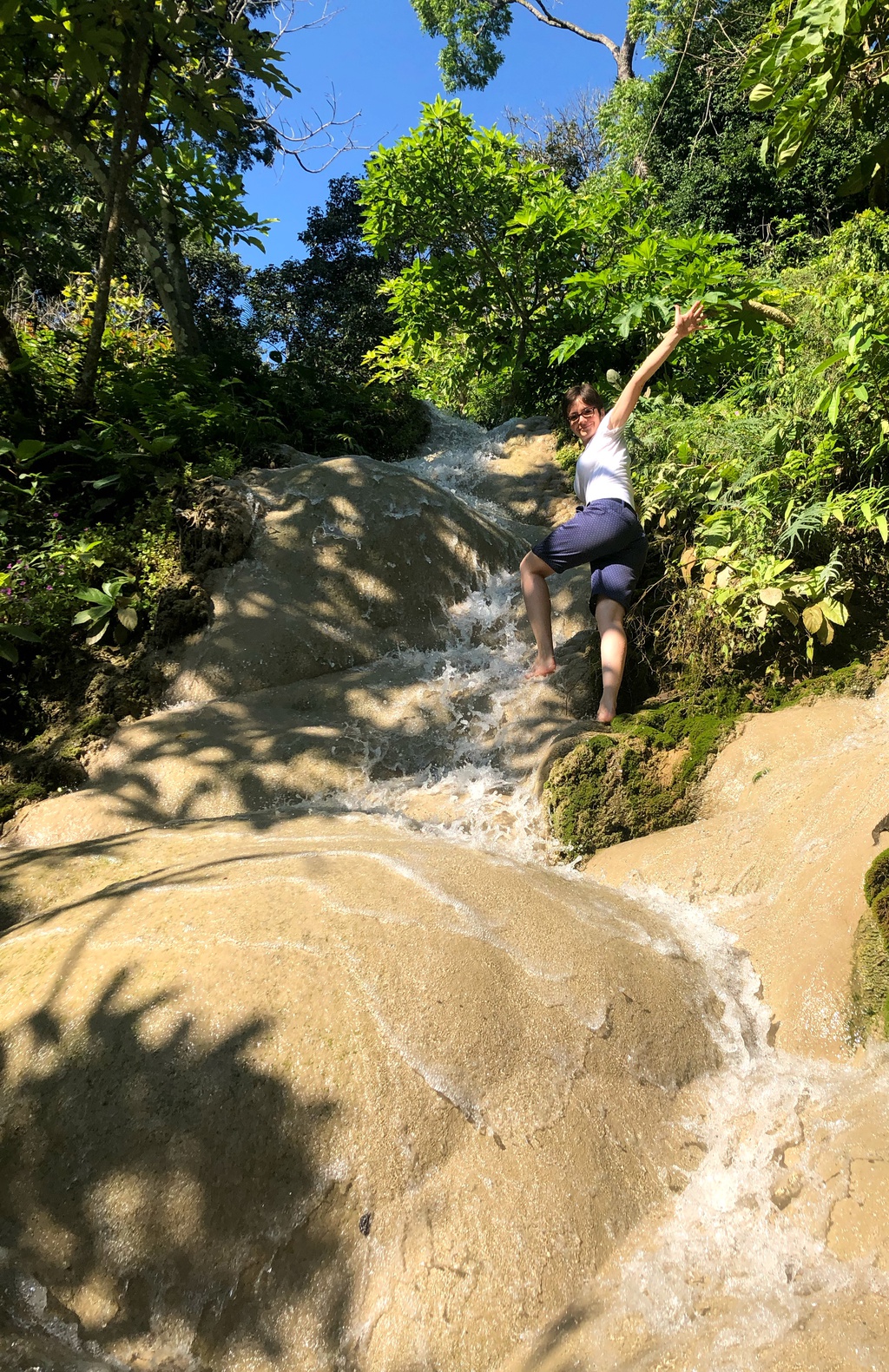 Other activities
Though we did a fair amount of smaller activities such as museums, myriad of temples, all sort of authentic Thai food, massages, it would be impractical to list them all. Sometimes we just enjoyed reading a good book on Kindle, watching a Netflix movie or spending a romantic night. Though we love activities, some cool off period on holidays is vital.
Two years ago we made a trip to Doi Inthanon, the highest mountain in Thailand. I highly recommend it, but we preferred to do something new this time.
Way back
We also flow back using Qatar airlines, though this time we were in non-sleeping mode at the layover airport in Doha3. We got 5 hours, too little to go out to the city to explore, but luckily there is a 25-meter swimming pool at the airport. Even taking a shower during long travel is a blessing, but more water is always welcomed :-).
I also check hotels.com. I highly recommend staying in walking distance to the moat. We stayed at Goldenbell Hotel. Small scaled, authentic with fabulous service, location, and breakfast: http://goldenbellhotelchiangmai.com/ ↩

Reasonable spread for a rare pair such as PLN to TBH is at most 3%, though by default bank is charging more which feels like 5-10% of currency tax. ↩

If you frequently travel across time zones, sleeping at the right time is extremely important to minimize jet-lag. There are many theories, but in general, try to live new timezone as soon as possible. ↩